By Md Maniruzzaman and Md Mainuddin
Introduction:
Technical, social and economic constraints are limiting the effective use of groundwater and ponds for irrigation in many parts of the EGP. Large areas of land remain fallow during the dry months. Access to year-round water for irrigation would significantly improve the productivity of agriculture, improving incomes and food security.
Marginal and tenant farmers, youth and women are particularly vulnerable and could benefit from a new approach to irrigation provision. This project is researching and demonstrating improved collective farming systems for marginal farmers and improved water management and irrigation practices using efficient systems appropriate to the needs of the marginal farmer communities.
A project funded by the Australian Centre for International Agricultural Research (ACIAR) is working with communities across Nepal (Saptari), India (Cooch Behar and Madhubani) and North West Bangladesh, to research and demonstrate sustainable social and biophysical interventions.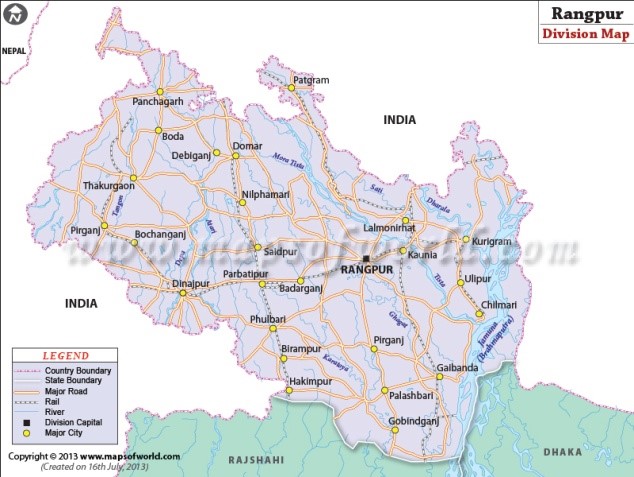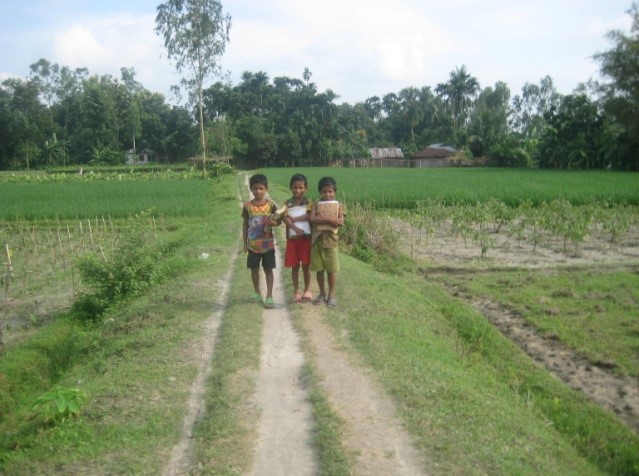 Fig. 1 Location and view of Village Ramnather Para, Mithapukur, Rangpur
Village:
The village Ramnather Para is located in the Mithapukur Upazila (sub-district) of Rangpur district, Bangladesh. The village is located in the northwest region of Bangladesh under the Agro-ecological Zone (AEZ)-3. The land type is medium highland to highland. The region consists of Teesta
Meander Flood Plains with silt loam to loam soils and characterised by medium monsoonal rainfall and comparatively dry winter months. The temperature is comparatively cooler in winter and hot in summer. The village community is mainly dominated by Muslim people; some Hindu families also live there. The average size of land holding is low with a high proportion of marginal and tenant farmers (about 65%).
Agriculture is the main source of livelihood for the village people. Most of the tenant farmers work as agricultural labourers (about 20% women labourers). There is migration of youth to other places in search of alternate occupation. The village is rich in groundwater resources. There are some ponds in the village. They are mostly seasonal and only 5-8 ponds retain water throughout the year and used for aquaculture, duck rearing, cattle bathing and household uses. The groundwater table is available at about 5.0 to 5.5 m below ground level. All of the cropped area are irrigated by shallow tubewells (STW) and most of them are diesel operated and a few are electric motor driven. The quality of groundwater resources is good.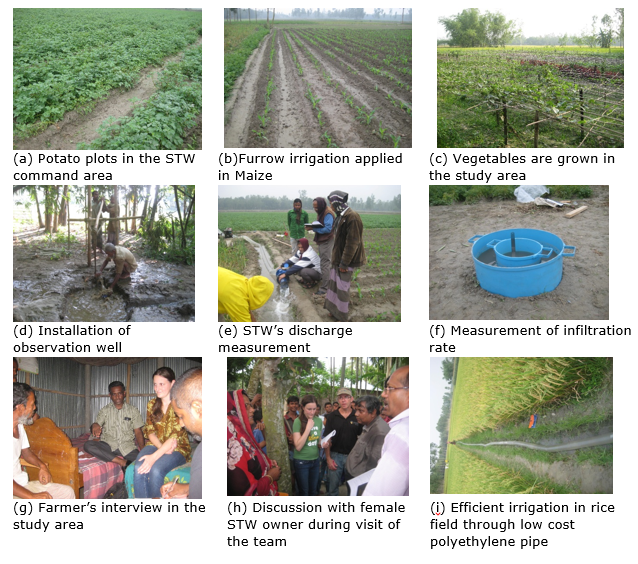 Fig. 2 (a-i) Different activities at Site II: Ramnatherpara, Mithapukur, Rangpur
Community and interventions:
The village is selected for understanding the bio-physical, socio-economic and institutional management of STW irrigation systems for comparison to the other project sites of India and Nepal. BRRI and CSIRO is studying the bio-physical aspects and IWMI is looking after the socio-economic aspect of that village. Five STWs were selected; 2 driven by electricity and the rest by diesel engine. There are about 100 farmers within the selected STWs command areas and most of them are marginal and tenant farmers. The STW farmers are selected for collection primary social and bio-physical data for the project. As part of the project activities social mobilisation was done at the site through a series of community meetings, focus group discussions, community engagement programs and gender awareness meetings.
The analysis of primary agricultural data indicated the dominance of rice based cropping systems. The major cropping patterns of the village are Boro-Fallow-T. Aman, Potato-Boro-T. Aman, Potato-Maize-T. Aman and Potato-Jute-T. Aman. Some non-rice crops (Maize, Wheat, Potato, Mustard, Brinjal, Gourd, Onion and Chili) are also grown in the area during winter. The water distribution systems of the STWs are mainly earthen canal. But some farmers use thin polythene pipe for water delivery following the advice of the project scientists. Boro rice requires huge amount of water, which creates tremendous pressure on groundwater resources. With technical advice of the project scientists, the farmers are getting interest in cultivating low water demanding crop such as mustard, wheat and maize at early winter for crop intensification. Some farmers cultivated late Boro after winter crops for reducing the irrigation demand as the crop receives sufficient rainfall at the later part of growing season. Following the advice of the project scientists, few farmers are practicing alternate wetting and drying, AWD irrigation scheduling that reduces the field level irrigation requirement.
Impact:
Though the project is now in a problem investigation phase some interventions have been made for saving irrigation water and increasing land productivity. Our research has clearly showed visible impact on the conventional agricultural practices of the farmers. Due to strengthening of the project activities and social engagement, the farmers have started to realise the benefits of improved water and crop management practices. For increasing support from the project, farmers are now more interested to adopt new crops and management practices. The cropping intensity has increased in some lands due to intensive cropping system. With better water management techniques and improved cultivation practices the overall cost of cultivation has been reduced. With higher yield and timely harvesting of the crops the market prices are more remunerative to the farmers.
Future:
Training program will be arranged for farmers group on 'efficient water management for crop production'. This is to build up their capacity on resources conservation, productivity improvement and cost minimisation so that they can sustain beyond the project duration. Technical trainings and hands-on exposure will be given to the farmers to improve their agricultural skills. New varieties of crops, low water requiring crops and high value cash crops will be introduced in the future. Special emphasis will be given to minimise the cost of production by optimum use of irrigation water. Improvements in field level water application will ensure reduced cost of cultivation.