The land and water (L&W) project seeks to optimize agriculture based livelihoods opportunity for the small, marginal and landless communities during the dry season. In the Cooch Behar site large tracks of land remain fallow during the dry season. The project works with the communities and the local University to together work out strategy and tools. The communities are diverse and have diverse needs and priorities. The research project endeavours to engage with the communities and evolve common agenda and tools.
The project area has a farmers club and self-help groups steering socio-economic programs. Their agenda, however, has a limited spectrum and includes mainly accessing government programs and activities. They seem to suffer embedded dependency. The project initiated systematic community engagement and worked with them to define and evolve a shared goal and mission for optimizing dry land agriculture.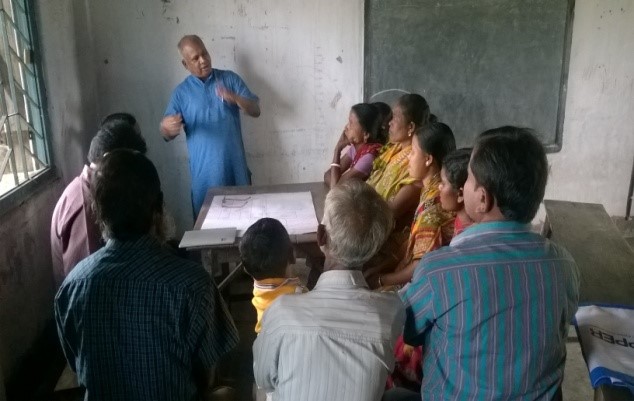 Pic-1: Discussion with farming group at site-2 (Karjee para).
Following such engagement the farmers realized that there is a need for strengthening the existing institutions –farmers club and self-help groups –not only to include government schemes and doles but to also involve agriculture activities and play a proactive role in agriculture diversity  especially during the dry season.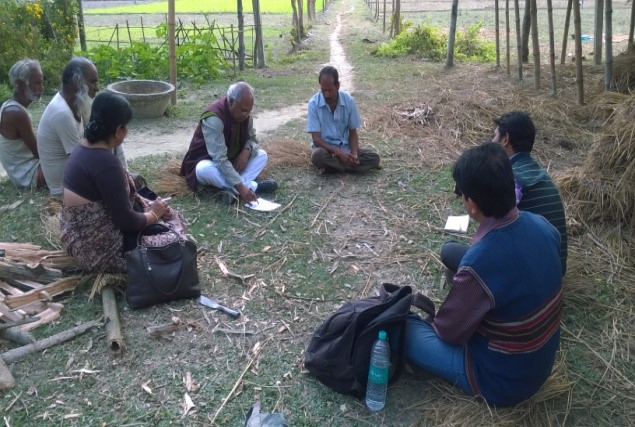 Pic-2: Discussion after the transect walk in the farmers' field.
The farmers, in collaboration with the Uttar Banga Krishi Viswavidyalaya (UBKV), Centre for the Development of Human Initiatives (CDHI) under the guidance of the specialists from the University of Southern Queensland (USQ) and International Water Management Institute (IWMI) have laid down experimentation at three sites in each project village (2) and the two institutions have planned to involve themselves in the research activities.
The capacity building of the farmers' club and self-help groups is being facilitated by CDHI using participatory and reflective learning approaches and tools. The reflective learning process has helped them analyze their Strength, Weakness, Opportunities and Threats (SWOT). This further helps them in taking remedial measures to strengthen their institutions. The institutions are evolving into multi-activities entities with clarity of vision and mission evolving gradually.
Pic-3: Collective farming -checking the growth of relay crop ( Lentil ) by the project team with the farmers.
The farmers have realized that only a strong institution can help them realize their goals for economic development and well being. As the process continues there is likelihood of these institutions firmly standing on their feet not only in the affairs of economic development but also in scientific exploration and research. It seems they will emerge as a strong farmers' research group.