By Manita Raut and Fraser Sugden
Introduction:
Technical, social and economic constraints are limiting the effective use of groundwater and ponds for irrigation in many parts of the EGP. Large areas of land remain fallow during the dry months. Access to year-round water for irrigation would significantly improve the productivity of agriculture, improving incomes and food security.
Marginal and tenant farmers, youth and women are particularly vulnerable and could benefit from a new approach to irrigation provision. This project is researching and demonstrating improved collective farming systems for marginal farmers and improved water management and irrigation practices using efficient systems appropriate to the needs of the marginal farmer communities.
A project funded by the Australian Centre for International Agricultural Research (ACIAR) is working with communities across Nepal (Saptari), India (Cooch Behar and Madhubani) and North West Bangladesh, to research and demonstrate sustainable social and biophysical interventions.
Village:
Koiladi is situated in Saptari district, Terai, Nepal. It is inhabited by Rajput, Mandal, Kamait and Dailit communities. In Koiladi, the majority of land is owned by 50 households who are mostly from the Singh community. Most of the family members of these landlords reside in urban centers of Nepal like Kathmandu or in India. Land rented or leased by them are farmed by marginal and tenant farmers. Koiladi is located near a small town Hanuman Nagar where farmers buy and sell agricultural produce.
The primary source of livelihood for people living in Koiladi is agriculture. The area is characterized by high male out migration. During the paddy and wheat season, Vice Canal from Koshi Paschimi is used to irrigate some farm plots. The area has more than 20 ponds, which are used for fishery as well as day to day domestic use. Diesel operated pumps are privately owned by water lords and are rented by marginal farmers at a rental charge of Rs 150 per hour.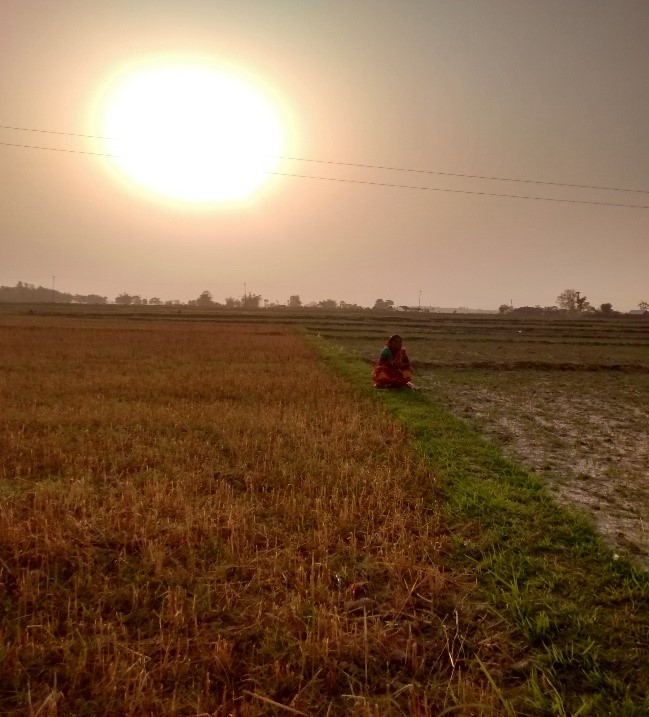 A woman sitting near at Koiladi field
Community:
A few landlords own large plots of land, while there are many tenant and marginal farmers who have no or small land holdings. These marginal and tenant farmers lease (adhiya) or practice share cropping (batiya). "Batiya" is a system of share cropping under which cost for input as well as production are shared by the landlord and tenant throughout the year. Adhiya is the system of leasing land in which fixed rental charge or produce is given to landlord in paddy season.
Community mobilisation:
The land ownership pattern in Koiladi offers adequate grounds to carry out a project on dry season irrigation. A series of formal and informal discussions and meetings were held with tenant and marginal farmers for group formation. Ma Durga Krisak Samuha (site 2) was formed into a self-help group comprising of 3 women and 4 men. Landholding in the groups represents the landownership pattern in the village. 2 among 7 do not have their own land. Maximum land ownership is 6 khatta (0.2ha) and minimum is 1 khatta (0.04ha). All the farmers have leased land: maximum land leased is 30 khatta (1ha) and minimum land leased is 10 khatta (0.34ha). In the site selection phase a landlord was identified and a formal land agreement was made. Rental charge was fixed on the basis of kg rice per unit area per year.
Community and interventions:
Farmers from Mahila Utthan Krisak Samuha were initially reluctant to be part of the group. As the project team carried out group formation process, farmers came on board. Community mobilization work started in December/January 2015/16. During group mobilization, work was hampered by the 2015 political blockade that affected Terai region of Nepal. Meanwhile, existing tenants had already planted wheat and cropping in the intervention site. So, intervention crops could not be cultivated.
Despite this, nursery raising, group management, compost making training were organized for the capacity building of the group. The project team provided training on saving and credits. The farmers currently meet every month and have started saving of Rs. 100 per month. Assistance was provided to develop institutional capacity through regular meetings, record keeping, linkage and coordination. Farmers were assisted in crop calendar development. Training on nursery raising, IPM, compost making, record keeping were organized.
Water table depth at Koiladi is 3.5m. In March, a 4 inch boring was drilled in the plot. A 4hp pump is connected to the boring.
The project has had to face a number of challenges. As the group was planning to farm paddy collectively in Khariff season, the landlord demanded a share of crop for the entire year. Enthusiasm of the farmers subsided and the project team and farmers negotiated with the landlord a new agreement whereby a portion of land was decided on thekka (leasing) and another portion on adiya (share cropping). This resulted in a reduced intervention area and delays in implementation of planned activities.
After the installation of the boring in March 2016, there were also delays in connecting the 3 phase electric meter. Processing electricity application by the Electricity Corporation Office at Hanuman Nagar took around 1.5 months.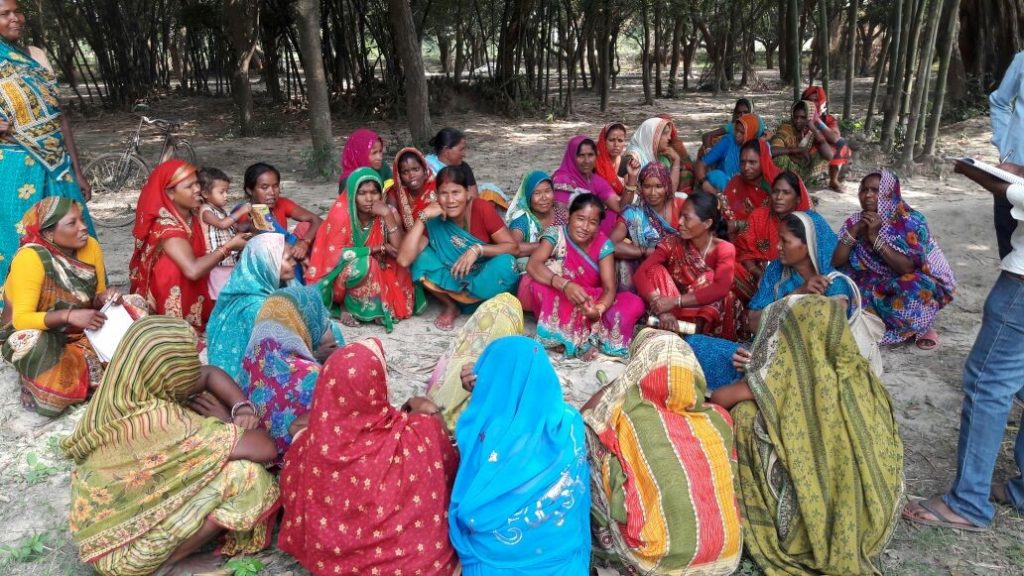 Impact:
Intervention with Ma Durga Krisak Samuha has had a few challenges and benefits in terms of economic return have not been realized yet. Nonetheless, farmers have developed interest to work together. They participate in meetings and save Rs 100 per month. Scope for year round irrigation and perceived benefit has grown interest of the group. To learn about collective farming, the group participated in an exposure visit to Madhubani in May, 2016. Apart from rainfall and canal irrigation (which does not reach every farmer), they used to pay for Rs 150 per hour to rent diesel operated pumps. Members are happy that they will have to pay a relatively small charge for water extraction by electricity (i.e, Rs. 3.60 per unit). They also realize that power cuts can hamper irrigation.
Future:
In the Khariff season, collective paddy cultivation will be initiated. This will be expanded to dry season crops. Farmers continue to seek information on appropriate vegetables to be planted in the Rabi season. They have started planning which vegetable will fetch them higher income, associated cost and potential output.
To strengthen the agronomic and water management skills of the group, the project team will carry out follow up training in SRI, water management and irrigation scheduling in the upcoming season. Currently, farmers have been carrying out flood irrigation, for the forthcoming Rabi season, farmers' capacity in furrow irrigation, mini- row basin irrigation (1,000 sq.m) and pipe irrigation will be developed.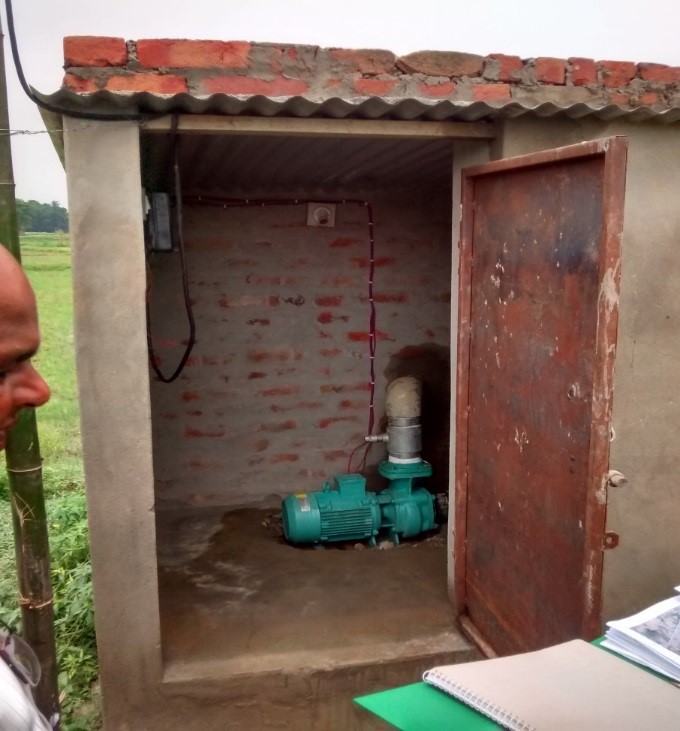 Shallow tube well at Koiladi site 2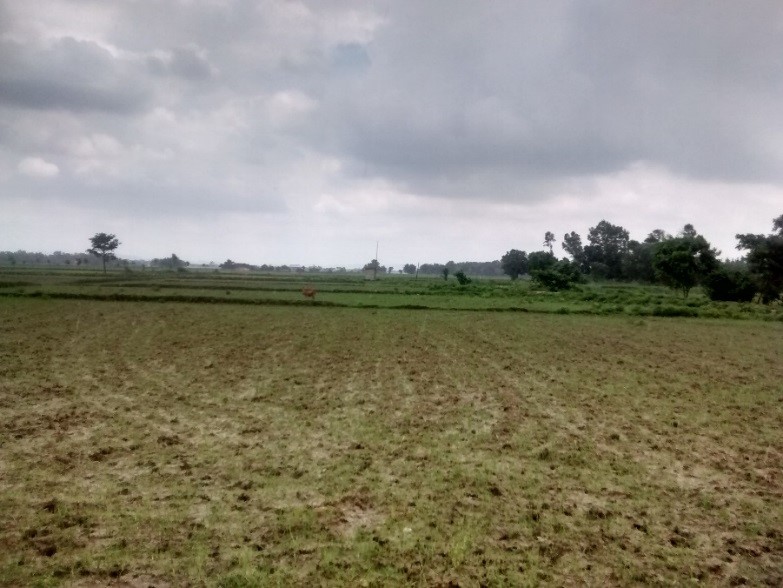 Koiladi Intervention Site 2 Cultivated by Mahila Utthan Krisak Samuha