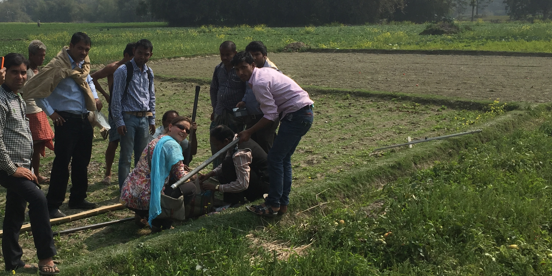 By Debojit Dutta and Prasun Deb Kanoe
In early February 2016 the DSI4MTF team and the SRFSI team collaborated to undertake training in soil sampling. Alison Laing from CSIRO and Arunava Ghosh from UBKV (Department of Agricultural Statistics) were able to accompany IWMI and UBKV field staff to Dholaguri village in West Bengal. In Dholaguri, the senior scientists spent almost ½ a day with the field staff and two farmers undertaking hands-on, practical training in how to collect agricultural soil samples in the intervention potato and tomato fields.
The staff learned how to select a representative sample site, how to use soil coring equipment, how to composite, collect and store samples as well as the importance of appropriate labelling of samples and collecting replicates.
The samples have been taken to UBKV soil laboratory for gravimetric soil moisture, nitrogen and texture analysis.
Importantly, the training was delivered across the sister projects to develop the skills of the junior staff but to also ensure that a consistent method was used in both projects.
Earlier in the same week, Michael Scobie from USQ was in the field with DSI4MTF staff training in the use of a TDR (time domain Reflectometry) probe for measuring soil moisture.